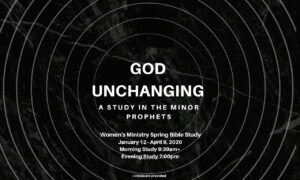 Do you know which prophet talked about locusts? Which one is about cliff-dwellers? Did you know Jonah wasn't the only prophet God gave a message about Nineveh? Which one was a conversation between God and a man? In which one was God angry? (Trick question!) Which one offers substantive and lasting hope? (Trick question again!)
The Minor Prophets are a portion of Scripture that is rarely (and often reluctantly) studied, but they are filled with incredible stories, timeless truth, and accounts of the unchanging character of our God. In this study, we will look at 5 out of the 12 Minor Prophets – Joel, Obadiah, Nahum, Habakkuk, and Zephaniah.
Over 12 weeks, we will learn the basics of these largely unfamiliar books, focusing our attention on the character of God. Through daily study questions, and some creative opportunities each week, we will engage both our minds and our hearts with the Word of God. He has not changed since the days of the prophets, and His character remains steadfast. Join us as we study our God Unchanging.
To register, please click AM for the morning study, or PM for the evening study.